We have just added a fresh new batch of Owner's Pictures to our website! Head on over to
modelsailboat.com
to take a peek.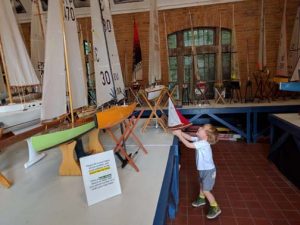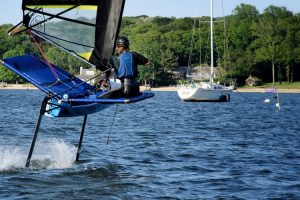 Robyn Lesh (Will's daughter) has joined the design team for  America's Cup, the world's premier sailing regatta! Robyn will be working as a mechanical engineer on the design team for the AC75 boat for the New York Yacht Club Bella Mente Quantum Racing cup challenge. Robyn grew up with the Tippecanoe company, playing a role in the design and manufacturing of the many boats Tippecanoe offers. She then went on to school at MIT where she studied ocean engineering and competed on the varsity sailing team. Robyn will now be helping develop the New York Yacht Club's racing team's 75-foot foiling monohull. Two great articles were written about Robyn and her exciting future - one in 
MIT Alumni
and one in
Sailing World
. From T37 sailing to America's Cup!
We had a great time sailing T37 boats at Lake Whatcom in Bellingham, Washington this past weekend. It was cold, wet, and rainy, but we still had a great time. Three boats started out in the water, then we went down to two boats so that we could film this fun little outing! Check out our video below:
Robyn Lesh, successfully led the MIT Women's Varsity Sailing Team as the "A" skipper to an 8th Place finish in the Women's Collegiate National Championships held in San Diego. Only the very best teams in the entire nation were able to qualify to sail in the event and every top sailing team in the nation was represented. In an incredibly competitive group of 36 teams that qualified, only 18 made it through the eliminations that were sailed on the first two days and on to the finals. Now it was down to 18 top notch teams on the starting line for the final two days of the National Championships. Even the slightest slip of a couple of seconds could put you at the back of this incredibly competitive group of talented sailors. Robyn's best race was a first place finish. To maintain 8th place overall took tremendous skill and endurance over 4 long days of race after race. Each team had an "A" skipper with crew and a "B" skipper with crew. The "A" and "B" fleets raced separately. The MIT team placing in 8th place overall was definitely due to the entire team working together as a single unit and everyone contributing their maximum effort. One final note on the MIT sailing team. MIT is the only collegiate sailing team that has introduced sailing helmets as mandatory for all of their team members. Concussions in  dinghy racing are a common and very serious occurrence. Although introducing helmets seems like such an obvious response to such  a serious problem, MIT is the only school to have taken this important step. Hopefully the entire high school and collegiate sailing world will catch on and follow suit before too many more student sailors have to suffer the disruption caused by serious concussions. There has not been a single concussion on the MIT sailing team since the introduction of sailing helmets. Pretty obvious, but once again MIT has taken the lead in implementing a solution to a widespread problem. Congratulations to MIT for taking the leadership and implementing a successful strategy. Robyn has now graduated from MIT with a degree in Mechanical Engineering in the Ocean Engineering Department in the Class of 2016. I had a splendid time attending the ceremony in Cambridge and even got to sail MIT boats on the Charles River a couple of times. My younger daughter, Celia, just graduated with the Class of 2016 from University of Washington at age 19. Celia is also a great sailor and spent a month cruising together with Robyn on my 24 foot laminated cedar sloop up to Desolation Sound in BC. On the wildest day with winds gusting over 35 knots and 15 foot high seas, Robyn said that a lot of bigger boats were staying in harbor or returning to harbor, but that she had total confidence in the boat because I had built it and because it had sailed successfully across the Atlantic. Celia concluded that the day was one of the best days of her life. They were sailing across very open water at the top of the Salish Sea with an almost unlimited fetch and terrific waves and wind ... and they both loved it. This is the spirit in which the Tippecanoe boats have been born - boats built by true sailors for true sailors to enjoy! Onwards Tippecanoe! Happy Sailing, Will Lesh
This past week we shipped a boat to the Republic of Kazakh! We had to check the map to be sure where this was, but it borders the Caspian Sea on one side and China on the other side and almost touches Mongolia! Parts of Kazakh are exactly on the opposite side of the globe from where we are. I wonder if the boat went west or went east to arrive at Kazakh? The boat was a T37 with white and blue sails. Maybe we will get pictures of the boat sailing in Kazakhstan some day. When we get pictures we will add them to the Owner's pictures pages at www.modelsailboat.com/owners.html This makes 66 countries where we now have Tippecanoe Boats!
Day 2: Drive <2 minutes (oh! driving on the left side of the road here, I am having the darnedest time getting used to that. Firstly it took me about 10 minutes when I got in the first car here to realize that the person in the front that I'd thought was driving was actually the passenger and we were on not the right side of the road. It keeps tripping me up.)
Anyways, <2 minute drive to boat pickup. (It reminds me of Venice how closely connected the water and land is here. Boats to get to work/around seem equally common as cars)
The other sailors here, Melany Johnson from Echart, coach Kevin Reali from Echart, Scott Ikle coach at William Smith, Charles Rees from Charleston and Hanz Henken who I already mentioned. Tom (originally from Wales) the host for the visit expertly motor-boated us to Dockyard and the Oracle base though stunningly large and stunningly blue waves.
First thing I noticed walking into the breakfast room/central area was "so grey!" The dominant color was definitely grey. That is the apparel of all people in the room. The space it's self is very light and bright and white but everyone pretty much wears what I'd say the "Oracle uniform". It's neat. Everyone is the team. The second thing I noticed was the people that were in that room wearing those shirts. All the head-shots you see on the America's Cup website and videos were there having breakfast. They are real people, they do exist and they're also all really chill. Jimmy Spithill after introductions came to chat with us for a little while, what to say? yea, exactly.
I don't know how I am going to have enough time to write about this day. So much happened!
We saw team debrief, toured all the sheds (hulls, wings, foils), in depth boat position tour with Andrew Campbell, look over of the Oracle Flying Phantoms (see below)
And since I can't summarize the day the day because sooo much happened, here are the pictures and more tomorrow!
The old AC 45 outside
In that shed behind the bow is the first of three development-barn boat bays. (No pictures but fabulous wings and hulls and foils contained therein)
And the "toy" yard. Just a handful (lot) of moths and a couple flying phantoms. (down at the end, we looked at the phantoms in depth at the end of the day. Mini AC 45 foilers!
More coming sooon 😉
Soo Bermuda,
The first two things I noticed in the first 10 second flying in. - Firstly all the houses are supper brightly colored. Bright pink, green, yellow, blue with white trim and roofs. - And then we flew over an etches and I thought to myself "I like this place".
The feel here is entirely different from the US or anywhere I've ever been before. Architecture-wise it looks something like south-american-esk or maybe Ethiopia. Built for very warm weather.
We got to get off the plane via one of those sets of rolling stairs you see in movies and went into the airport for customs. The lady behind me was originally from Sweden who had moved to the US to practice Naval Law and was visiting Bermuda for a Naval Law conference (interesting I thought!).
I'd met John the Stanford coach getting onto the plane in New York. I found John after security and met Hanz Henken also from Stanford (graduated last year, is currently training for the Olympics next year in the 49er (training in four day blocks focusing on their weaknesses, day off, another four days, etc))
Long story short, after being picked up from the airport the afternoon consisted of afternoon tea at my host's beach club with Frank & Nancy (family friends), walking the incredible sand beach and a game of chess thrown in!
I can't get over the feel here. So very English. Walking into my host's house (Sheree & Bruce) was like walking into my grandmother's house. Older dark wood furniture, well arranged, very much an English feeling house. After talking with Bruce it does make sense. Bermuda is an English colony and Bruce's family came here pretty much at the beginning (1618 with the first English being shipwrecked here in 1609) discovered in 1511.
Anyways, I haven't even gotten to the America's Cup facilities yet... soon!
Press Release: (not really, but sort-of)
R. Robyn Lesh has been accepted to the America's Cup Collegiate Internship Program and will be spending the next three days at the America's Cup facilities in Bermuda as part of the immersive program.
To prove it, here's the sunrise leaving Boston.
More updates and Bermuda pictures soon!
LP Collegiate Cup 100% success!
Let me tell you a short story. First the scene, the end of the second of three days of racing:
Yale is in 2nd. Yale is one of THE teams in sailing. We are 9 points ahead with 4 races to go. We're excited but we're up against Yale and Yale is GOOD.
During the evening of the second to last day Addy's dad texted her saying "By the way, I think the prize for first place is a trip to Italy" This is an exciting proposition but we are certain that he must be mistaken. Certainly if the prize for first place was a trip to Italy we would would have heard earlier and it would have publicized! In summary we didn't believe him.
However to finish our excellent week on a strong showing (and on the off chance that Italy could be in our sights) Addy, Sydney and I on the bus make a pact to "Try to win this thing!" We're going to sail the three of us and push through strong to the end of the regatta. At this point we think we are in 2nd but only slightly behind Yale. We find out in the morning that we are ahead of Yale but with only a 9 point margin and four races to go. Not much of a buffer!
We're going to have to stay strong & super focused. Only four races! We got this!
The fleet races this regatta were of an unconventional format. A & B are racing together in one fleet with team scores summing. There is a constant aspect of adding points, calculating your two-boat combined team score. Sailing "dialed in" meant we were constantly weighing the advantages of going the same way as our teammate or splitting sides to cover both sides of the course. Constantly aware of where the Yale boats were and what places they were in. The only goal of a close regatta is to finish with less points than your opponent. For example, a 6th place finish with Yale in 8th would be a great race. We only needed to stay ahead of Yale!
Racing was very very close. The first race Yale closed the gap between our scores by a point, the next race we gained it back but one race could change everything. A bad start, a bad windward beat, hitting a mark, any of these and Yale would pass us.
The last race was a photo finish. Yale 1 finished 3rd, Sydney and I on their tail in 4th followed by a pack of six boats bearing down on the finish line. In this pack were Addy & Yale 2. If Yale 2 finished in front of Addy with more than three boats in-between we would loose the regatta by a point. Sydney and I held our breaths....
Addy finished one boat behind Yale. Sydney and I looked at each-other with excitement in our eyes. Did we have the win? We were too excited to jinx the possibility we'd miss-calculated. Yale 1 said I think you guys got it! My excitement built but we still weren't certain. We slowly sailed towards the dock in a mix of excitement and uncertainty. Anna Tunnaclif motored up to us and said "Nice job ladies". We had done it! USA Women for the WIN!
Addy, Sydney and I this time next year will be on our way to the LaserPerformance College Cup Year 2 in Lake Garda ITALY, all expenses paid. (See below the letter that confirmed the wisperings!)
Never have I ever been the subject of so much paparazzi. (LP photographers we love you 😉 )
Thank you LP for a fabulous experience! We're excited for next year!
Going to be a fast post today but it was awesome day! Again a fabulous day of sailing. Great wind, great sun.
We had 9 fleet races today with a each sailors sailing 6 (due to teams having 6 people on account of them being team racing teams)
All the sailors are getting settling in to sailing 420s and have improved greatly from Tuesday but Sydney and I still have excellent boat speed and pulled of Snake Eyes in the first set (1ist-1ist) We continued our good start and finished the day with 1-1-1-OCS-4-1. Not bad for sailing against a fleet of very good sailors from around the world.
After fleet racing we sailed a handful of practice team races (just as much fun as yesterday!!) Tomorrow we're going to sail 4-5 fleet races and then move into a team racing round robin.
After sailing we were served dinner at a fancy country club by the bay and took a group picture. (Group pic coming soon to this page)
More updates tomorrow!
-Robyn