Soo day three!
It was an absolutely gorgeous day sailing today.  Imagine just about a perfect day and that was exactly what we had. Sunny, fabulous wind, open water venue, big fun waves, warm, GORGEOUS. I was thinking "oooh wouldn't it be amazing if we got to sail in this all the time", and then I realized that it wouldn't be special if days like today were the norm! But it was sure one of those rare absolutely fabulous sailing days!
We started some team racing today. Morning was some more boathandling with a blender drill (lots boat boats crossing each other close together with lots of tacking) and some upwind/downwind whistle work. But that wasn't the interesting part of sailing today. Interesting was the afternoon.
TEEEEAM racing, in 8-10 knots with ~4 foot waves. Sooo much fun. Sydney (from Harvard) is a great crew. It is team racing with a crew that knows team racing! If we need to slow slightly or max power up to stay bow forward on someone she knows what we're doing nearly before I do and is already doing it! Rather lovely.
Also something about college sailors, we are all at a level where we can be thrown in a boat together, do a few practice tacks to get in sync (even better with a part of a day of practice) and then go team racing. Nearly no warning crash-tacks and all!
Sydney and I were temporarily Italian and Addy and Lindsey (Ireland Team) sailed with France for the purposes of team racing teams. Sono italiano, destra? (google translate cheating) Despite still being rather new to Z420s everyone was team racing rather well!
My two big takeaways from practice today,
1. if you're in the 5 you really need to gap the 6. "No gap is big enough" (If you don't seriously seriously gap the 4 is coming for YOU) 2. the job of any place but the 6 is to play back. You are attacking the boat behind you. The opponent behind you is your man! 3. if you are being slowed there is most likely someone that you can also be slowing, go slow them! 4. execute before you are executed! (Act first and with aggressive moves)
Note, I can count properly but as I was writing I thought of 3 which I learned at debrief and 4 which is a good summary.
Here's some LP pictures of the day & sailing
Fab day overall!
After sailing, school bus back to the hotels. A short 2.3 m jog loop & shower/change back on the faithful school bus to head to the "The Graduate Club" (old fancy city country club-ish building)
for "a light buffet" (dinner) and the Skippers Meeting for the next three days of sailing (shortest skippers meeting I've ever been to).
In reality the evening was actually "we all get to hang out, eat dinner and socialize with our friends from Canada, Italia, Ireland & France" I should make a point of getting to know the Oman and Japanese teams better! They stay to themselves more than the other teams but I should say hi more.
Anyways, sleep time for me now. Racing in the morning!
Best,
-Robyn
Tuesday. Fun day sailing! It turns out that we are being coached by Anna Tunnicliffe, two-time Olympian with an olympic gold meddle in laser radials in 2008. I'd seen her name on the LP Cup website but hadn't realized who she was until I saw her. Pretty cool we're getting coached by a recent Olympian! It turned out that I haven't gotten too crazy rusty at sailing Zs (Z420s) over the summer. We did windward-leeward loops to warm up then a couple of long tack on the whistle and gybe on the whistle boat speed drills. After the boathandeling and boat speed drills we did some practice starts and finished off with a few races. I'd say we clicked in quickly and sailed well. Fast in boatspeed and 2-2-2-1 (or something close to that) in the races. We might be slightly riding on a "home boat" advantage (we've sailed Zs far more than the other teams) but we are also sailing fast and staying out of trouble.
The Japanese team like many of the other teams hadn't sailed Zs before but they were FAST. I predict they're going to be good at team racing too. Team racing tomorrow! We shall see what the morning brings. Oh, this evening some of us,
went to the Connecticut Tennis Open. Overall good day and excited for tomorrow. Goodnight! -Robyn
I'm in Connecticut! Woke up at 4:30am, check. 5am traffic in Seattle, check. Long but expeditious security line, check.
Flight, check.
Fly into NY, check.
Meet ride (Reza) at JFK, check. Long (2-3hr) ride to New Haven (including an interesting conversation about AutoCAD among other things), check.
Meet my teammate Addy, check. In hotel room, check!
Addy one of my two roomies for the week (Sydney to arrive tomorrow) is lovely. We both were raaather tired earlier but it was a good evening. Soon to be brushing time! Tomorrow we get to go to the Yale Corinthian Yacht Club, meet all the teams and practice some. Back in double handed boats! We'll see if I can remember anything from the spring
😉
Until later! -Robyn
Hello! I'm Rosalind Robyn Lesh, Will's oldest daughter. I've worked in Tippecanoe Boats for years and years since I was a youngster. For the last couple of years I have been going to school in Boston at MIT. I am studying Mechanical Engineering-Ocean Engineering and sailing avidly on the sailing team. My sister and I just got back from a month long trip sailing our 24-foot boat "Gimble" in Desolation Sound, BC, Canada. Gimble is the western red cedar 24-foot sailboat that Will built and sailed across the  Atlantic and all through the Mediterranean. My sister and I took two weeks, gave Gimble a full touch-up with painted topsides, bottom and refreshed bright-work, and headed north for a month. We adventured all through Desolation Sound with adventures ranging from exciting windy crossings to swimming Gimble through areas of becalm-ment. (yes we are lucky ducks!) Tomorrow we're about to head off for another week of sailing with our two friends from Michigan, Harold and Artemis (9th year in a row of summer sailing adventures) before heading back to the east coast to..... sail in the LaserPerformance International Collegiate Cup hosted by LaserPerformance at Yale. Quite an exciting start to my senior year of sailing! The regatta will be 80+ sailors from 7 countries, spending five days competing at the Yale Corinthian Yacht Club in Brandford, CT. My teammates will be some of the top collegiate women sailors from all over the country. (new friends!) (So far we've been working on where we're going to be staying…). For full information:
http://www.laserperformancecollegiatecup.com/
Stay tuned for updates next week! Sail Fast and Have Fun, -Robyn
The T37 Class is thriving and growing! With over 2,300 boats sailing, new fleets and regattas are being established across the United States and internationally. We are excited to announce that the first
Canadian T37 National Championships
will be held
October 11th, 2014
at Trout Lake on the outskirts of downtown Vancouver, British Columbia. Sailors from the United States are encouraged to come up north and join in a day of competitive, exciting, and fun racing! The first annual
San Juan Island Spring Regatta
was held on May 17
th
at Sundstom Pond on San Juan Island, near Friday Harbor, Washington. Organized and hosted by Larry Shorett, Allan VanNess, and the
Pacific Northwest Model Yacht Club
, the event featured 14 T37 boats in 16 exciting races.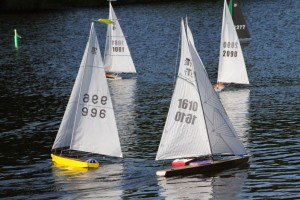 Olympic Gold Medalist Carl Buchan won the first place trophy, with Ron Knight and Peter Shorett finishing second and third, respectively.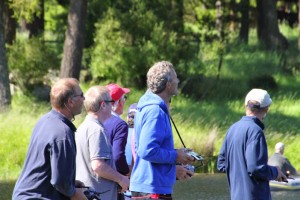 After the racing, the group gathered for a delicious salmon dinner hosted by Peter Shorett. The San Juan Island Spring Regatta was a wonderful day of racing and sailing camaraderie, and I look forward to attending again next year!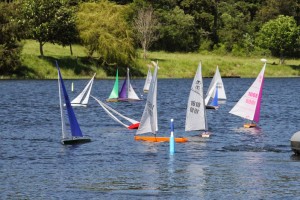 More great pictures can be seen at the pnmyc.org website under 'Photo Links—San Juan Island Spring Regatta'. As T37 racing becomes increasingly popular, clubs are expanding rapidly. A particular T37 club of note is the Port Townsend Yacht Club in Washington state. Through the work of its organizer, Michael Machette, and many other sailors, the fleet has grown from zero boats two years ago to 42 (and growing!) boats today. Once people see how much fun it is to sail a T37, they want to build one for themselves and start racing! If you are interested in starting a T37 fleet in your area, we are always happy to provide support and to help publicize your club. T37 racing is inexpensive and accessible to everyone, from experienced racers to people who have never sailed before! If you have more questions, feel free to call—1-800-206-0006—or email (fun@modelsailboat.com)! Running races is actually quite easy! Clubs in the Pacific Northwest are using racing marks with colored flags for easy visibility; these are now available from Tippecanoe Boats. The marks can be tossed up to 30 yards into the water from shore, or can be deployed from a canoe or dinghy. John Ive, who has built six T37s, built a
T24 Tug
for the Pacific Northwest Model Yacht Club (PNMYC) to set marks further out in larger lakes. The remote-controlled T24 Tug is designed to pull a barge that carries the racing mark. The retrieval line stays on shore; when the tug reaches the correct location, a quick tug on the retrieval line launches the mark. When the racing is done, the retrieval line is used to retrieve the mark from shore. This system can be used to set marks out so far you would not be able to see the mark clearly enough to be able to round it! (The tug and marks are available from Tippecanoe Boats
here
.) After building a tug for the PNMYC, John built a second tug for himself and did an amazing job with beautiful veneer decking and other custom details. You can see pictures in the 'Owners Pictures' pages at www.modelsailboat.com In other news, Gary Bart, who is building his first T37, has started an excellent build log, with many pictures as well as helpful commentary. His blog can be viewed at
http://t37buildlog.blogspot.com/p/introduction.html
. Your boat is looking great, Gary, and thank you for sharing your T37 building experiences with other builders! It is always wonderful to hear from T37 sailors about their sailing and racing experiences, and to learn about new clubs and groups! Keep in touch! Happy Sailing, Will Lesh T37 Class Secretary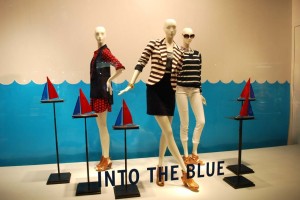 In late September Tippecanoe received an exciting call from Washington's favorite fashion retailer Nordstrom.  They were looking for some attractive sailboats to augment the rollout of their 2014 Spring line.  600 boats to be exact!  Considering each boat at Tippecanoe is handcrafted with care, and we were heading into a very busy Christmas rush, this would be a challenge, but a challenge we would relish!  We also loved the fact that Nordstrom shopped locally and chose us as their supplier, as we share the value of doing business locally. The boats were due to be shipped out to 107 stores in mid-January, so there was no time to waste.  Will jumped right into the design process.  Nordstrom was looking for a boat large enough to have a visual impact and compliment their displays, yet with such a large volume, Tippecanoe was challenged to create a boat that met their price point.  The end result was the T10.  While not a sailing model she does sport an attractive sloop rig (a red main and a blue jib) and has the beautiful proportions of a real yacht.  Hulls are made of solid Sapele, a durable mahogany-like hardwood.  They are finished with a thick coat of spar varnish bringing out the warm wood grain and protecting the hull for years to come.  Not having a keel allows the little beauty to stand proudly on her lines without any aids. Like all Tippecanoe boats, she is seaworthy and will float in all waters from bathtubs to oceans. Hot tubs and swimming pools are perfect! In severe weather, she is not self-righting since she does not have a keel, and without a keel, she does not really "sail" like all of our boats 12 inches and up which do have keels and sail beautifully.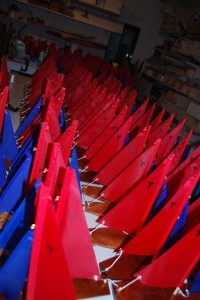 Dozens of brightly colored T10s await shipment to Nordstrom stores all over the country!
The production team had to work quickly and efficiently to meet the deadline, yet carefully enough to turn out a quality product worthy of Nordstrom's name and reputation.  As we fine tuned processes and the room began to fill up with bright red and blue sails, we all fell in love with the small but striking T10.  We proudly stuck the "Made in the USA" stickers on the hulls, did a final quality inspection and carefully packaged them for shipment.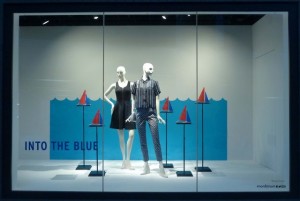 Nordstrom's use of the T10s in their Seattle flagship store was very elegant.
The T10s have since arrived at all the stores.  We received an email from the Nordstrom design team with the following picture showing how they would be used in their displays at their stores, which will be rolled out February 10. We were astounded at how effective and dramatic the design concept was and how well the work of each company complimented the other's.  We loved the T10s when we made them, but they looked more elegant and sophisticated in their perfect placement in Nordstrom's display!  It was symbolic of the synergy that happens when two Washington companies partner together!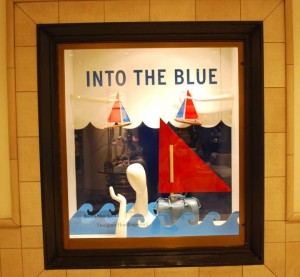 We at Tippecanoe are very proud to be a part of Nordstrom's "Into the Blue" rollout!
After enjoying creation of the T10, we decided that others, besides Nordstrom and ourselves, might like it as much as we do.  We are offering the T10 for sale for $29.50. Call for more information or to order your own T10 (1-800-206-0006). ~~_/)~~ Happy Sailing, Will
In case you havent heard, Tippecanoe boats were featured in ABC's TV show, Flash Forward in 2009!  The show purchased two finished T15's.  To view the movie go to:
http://www.modelsailboat.com/flashfor.html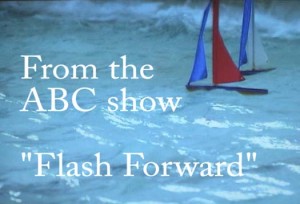 Hi, Just wanted to say thanks for a great kit. We had a blast building our T-27. Your instructions are very clear and everything was accurate. I used this kit as a test to see if I liked building boats. I liked it so much I went on to build a 15 foot Skerry from Cheasepeake Light Craft. I liked your kit because it uses exactly the same methods as the larger boat. Cheers! Jim M. Minneapolis, MN Looking for other
customer stories?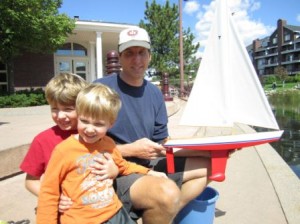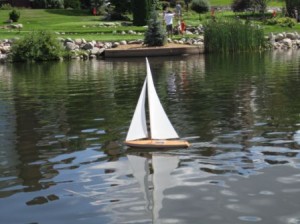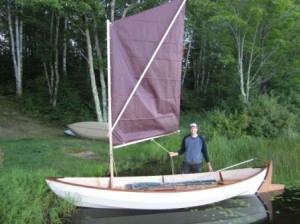 The T37 Class has grown to 1300 boats. Some of the boats built recently are absolutely gorgeous with splendid detail being added with exotic veneers and perfect paint and varnish jobs.
The Regional Championships were sponsored by the Seattle Yacht Club on April 23. Twenty boats lined up for the starting signal. The top 6 finishers are all big boat skippers. Bill Jones who sails on the 40 foot Ion, took first place. Peter Shorett who sails his own 40 foot Karma in Puget Sound races took second place. Will Lesh who sails his own 34 foot boat took third place. Chuck and Duane Emnott who each race their own 26 foot Thunderbirds on the Sound took fourth and fifth place, and Carl Buchan, an Olympic Gold Medal Winner in the Flying Dutchman Class, took sixth place.
Carl Buchan sailed with Jonathan McKee to win the Gold Medal. Jonathan McKee also races his T37 actively. The week after Jonathan returned from winning the Melges 24 World Championship in Corpus Christi Texas where he sailed on the Italian boat, he was racing T37's with the Pacific Northwest Model Yacht Club fleet. It was impressive. He took a series of 7 firsts in 9 races. His boat speed was excellent and his boat was pointing very high and he was always in the right position for the next lift. It was my goal to try to beat Jonathan in one race and in the seventh race I was able to beat him by about 3/4 of an inch. Gone are the days when sailing a flawless race is a guarantee of a first place finish. It takes a brilliant race now to get a first place finish in the T37 Class.
Throuhout the summer, racing has taken place every couple of weeks between all of the lakes in the Seattle area and in Bellingham. The turnout is very regular with ten to twelve boats at each event. Commodore Allan Van Ness runs a tight ship with an annual calendar being prepared well in advance and lots of events scheduled. What a great group of people to get together with for racing and socialising.
There was a good turnout of T37 skippers at the Seattle Wooden Boat Festival to sail in the sailing pond that was just opened last fall. The festival takes place in the park surrounding the pond with the pond as the central feature so the exposure was wonderful. The common dialogue is "What sort of motor do they have?" "There isn't any motor." "Then what makes them go so fast?" There are several new T37 owners and members of the PNMYC now because of the show.
A T37 club is starting to form in British Columbia around Vancouver, and another T37 club is getting started in Lawrence, Kansas. If you have a T37 and are interested in being appointed Commodore of a local T37 club in your area, call me or send me an email and I will send you the list of the other T37 owners in your state. It is easy to start a club. All you need is a place to sail and a set of racing buoys and at least one other T37 and you can get started. T37 groups tend to grow quickly due to the appeal of getting to build your own boat and the attraction of building a wooden boat, as well as the impressive performance of the T37 and the affordable cost of the basic kit. At $265, for the T37 kit which includes the RC gear, it is an easy sport to get started with.
We are looking forward to the T37 National Championships sponsored by the Seattle Yacht Club on October 8. There should be a very strong turnout with some truly incredible competition!
Will Lesh, T37 Class Secretary