Light Wool Sailing Apparel
100% Made in America!
Tippecanoe Boats brings you the very finest in  Lightweight, Warm "Royal Wool" Sailing Attire!
When the weather gets a bit cooler for sailing in the spring or fall, it is time to outfit yourself with our comfortable and exceptionally finely crafted light wool garments. Sailing gets exciting when the wind picks up, but the wind can also be a bit chilly when you're standing by the pond! These wool garments are lightweight but extremely warm. Wool retains the body heat in a way that no other natural fibers can do. We have teamed  up with a company that produces superb apparel crafted from superfine worsted Rambouillet wool. This apparel is lightweight and comfortable, but still splendidly warm. The unique process of creating worsted wool results in a wool garment that is so soft that it can be worn in total comfort right against the skin! There is none of that scratchy wool sensation that is associated with less finely spun wool garments.
And best of all our wool garments are 100% MADE IN AMERICA!
So what is :"Worsted Wool" and if it is "WORST!" +"ed" why is it so much "BETTER!!"?? The starting point is the fleece itself. Rambouillet sheep ( a distant relation of Merino Sheep)… well, here – read all about it from Wikipedia since these are Royal sheep – both you and Louis XVI can enjoy the comfort of worsted wool from his Rambouillet sheep:
(from Wikipedia) "The Rambouillet is a breed of sheep also known as the Rambouillet Merino or the French Merino. The development of the Rambouillet breed started in 1786, when Louis XVI purchased over 300 Spanish Merinos from his cousin, King Charles III of Spain. The flock was subsequently developed on an experimental royal farm, the Bergerie royale owned by Louis XVI, and built on his Domain of Rambouillet, 50 km southwest of Paris. The flock was raised exclusively at the Bergerie, with no sheep being sold for many years."
Well, the outcome of all this (remember there was no central heating back then) was a wool of renowned softness, durability and strength due to the long straight fibers. Instead of shorter, kinky wool which has all sorts of little prickly fibers sticking out of the spun yarn, this long straight Rambouillet fiber could be spun into worsted wool yarn in which all of the fibers line up in parallel array with none of those little loose ends sticking out to irritate you! The result is silky soft and warm garments fit for ROYALTY in the days before central heating. If you have been to the Palace of Versailles with its almost 30 foot high ceilings in the living compartments (including the King's bedroom!) and know what French winters can be like (think Mistral with arctic winds sweeping down to the Med with speeds recorded as high as 115 mph!) then you can understand how wonderful it was for kings and princes to have finely woven wool garments that were never itchy or scratchy in the least. While the peasants were either shivering miserably or scratching and itching endlessly, the royalty were all graciousness and comfort in their fine worsted wool garments made from the King's own Rambouillet sheep. You can feel like a member of the French royalty every time you don your own warm soft Rambouillet Worsted Wool shirt to head out to the sailing pond with your Tippecanoe racing model in Fall, mid Winter or early Spring. And just a side note, the famous French sailing pond in front of the Luxembourg Palace was built by Marie de Medici,  Queen of France, the second wife of King Henry IV of France (who was murdered). So there are wisps of royalty all over the place, although we have no evidence that Marie ever experienced the joy of owning her own model sailing yacht and if she did, it certainly was not as good a model yacht as we produce here at Tippecanoe Boats!
And remember long fibers = long wearing durability = you can have this shirt for a lifetime, so it is an investment in comfort.
Washing worsted wool – simply use the gentle cycle and cold rinse on your washing machine for perfect results and no shrinking every time.
Heading out on a longer voyage on your full sized yacht (with your Tippecanoe model boat safely stored down below) – perfect again.
Just tossed your super light K14.5 sport kayak by Tippecanoe on top of the car (easily done with one hand at just over 14 pounds!). With your lightweight "Royal Wool" sporty shirt to keep you comfortable, not to worry about a bit of breeze (although maybe not the Mistral) or even a light drizzle, you are all set for a wonderful day on the water!
Long Sleeve 3-Button Wool Henley Jersey: A comfortable, light weight long sleeve shirt with three buttons at the neck.
Wool Henley Jersey $90.00
Short Sleeve Wool Crew Neck Tee: A comfortable, light weight short sleeve crew neck t-shirt.
Wool Crew Neck Tee $70.00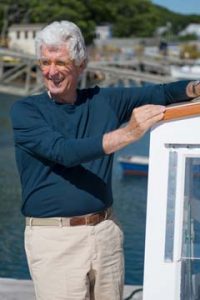 Long Sleeve Wool Crew Neck Tee: A comfortable, light weight long sleeve crew neck t-shirt.
Long Sleeve Wool Crew Neck Tee $80.00
Long Sleeve Wool Button Down Polo: A comfortable long sleeve shirt with buttons down the front and one breast pocket on the shirt's left side.
Wool Button Down Polo $140.00
Long Sleeve Wool Cross Neck Jersey: A comfortable, light weight long sleeve shirt with a slight v-neck.
Wool Cross Neck Jersey $85.00
Long Sleeve Quarter Zip Polo
Long Sleeve Quarter Zip Polo: A comfortable, light weight long sleeve shirt with a quarter zip collar.
Quarter Zip Polo $170.00
Long Sleeve Wool Button Down: A comfortable, light weight long sleeve button down with a breast pocket on the shirt's left side.
Wool Button Down $230.00
Click here for color options and expandable pictures of each style Lightweight Wool Sailing Apparel.
Click here for a color guide to the colors available in our Light Wool apparel.
Click here for Tom's story and Why Tippecanoe Boats and Tom Chappell are Teaming Up: Tom Chappell the iconic American entrepreneur founder of Tom's of Maine personal products, producers of Tom's of Maine Toothpaste.