T47 Schooner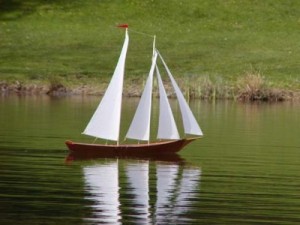 A traditional two masted wooden RC schooner. The wood construction adds a beauty and authenticity to this RC Sailboat that is incomparable. Out on the water the T47 RC Schooner tacks and sails with a grace and splendor that brings back the great age of sailing vessels. The wood hull is constructed of pre-cut 1/8 inch mahogany plywood pieces that go together very easily with a marine epoxy that is not only incredibly strong but also remarkably easy to use. Everything is included in the kit except batteries, paint and varnish. The sails are already sewn. This is a fun project for any adult or for an adult/youngster team. The rudder is controlled with one servo and all of the sails are controlled with the other servo.
T47 Kit, everything included. $520.00 
T47 Table Stand $24.50
T47 Varnish kit. Three vials of marine varnish, a varnish brush and 220 grit sandpaper. This varnish kit is one possible option for finishing off your T37. Any marine or exterior varnish or paint will work but this is an easy option.
$17.00
T47 Veneer Deck Kit $20.50
T47 Finished, everything included, ready to sail. Please call for availability of finished boats.