Tippecanoe Small Boats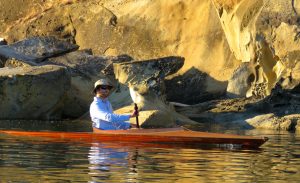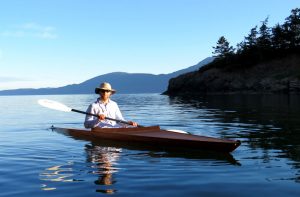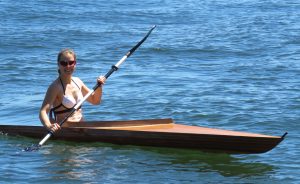 Welcome to Tippecanoe Small Boats ltd. where you can expect the same level of excellent design, fine materials and clear instructions as you have become used to with model boats from Tippecanoe Boats ltd. Tippecanoe Small Boats ltd. is a spin off from Tippecanoe Boats ltd. and specializes in small human powered boats, kayaks and other small craft. These boats are designed with all of the know-how of integrating high strength carbon fiber and aramid fibers into epoxy and wood construction that has been developed in producing very light, strong model boats. Will Lesh is the designer for over 65,000 model boats that have been produced by Tippecanoe Boats ltd. His experience in working with light, powerful engineered composite construction has blended with his lifetime of sailing and building experience along with advanced mathematics and physics in his studies at Princeton University. His early building experiences included a wood and canvas canoe when he was 11 years old built with his 12 year old sister, a fiberglass white water kayak when he was 16, a rebuilt 19 foot Hurricane cold molded sailing sloop when he was 18, and a 24 foot ferro cement sloop when he was 24. He has owned the 24 foot ferro cement sloop, a laminated Western Red Cedar veneer 24 foot sloop which he built and sailed across the Atlantic, a 34 foot fiberglass sloop, and a 37 foot steel cruising sloop. The last three of these boats he still owns and sails. His familiarity with all of these boatbuilding materials and methods has contributed hugely to his understanding of what makes a superlative craft.
Will's paddling began in his father's classic Thompson wood and canvas canoe on Lake Tippecanoe in Indiana. In high school will paddled whitewater regularly with his classmate Jamie McEwan on the Potomac River upstream from Washington DC. Jamie went on to win the Bronze metal in the closed canoe category at the 1972 Olympics in the whitewater slalom event. Paddling has been a lifelong love for Will and has become even more delighted in over the many years since Will moved to the Pacific Northwest. "I wanted a boat for myself that was super light and easy to paddle and easy to carry and load onto a car. Nobody made such a boat so I designed one for myself. I have paddled this boat more frequently than any other boat I have ever owned because it is so much fun and so easy to transport and launch!" Will owns four other kayaks and two canoes along with a Windsurfer, a Laser, a 420, a hobie cat, a 24 foot cruising sloop, a 34 foot cruising sloop and a 37 foot steel cruising sloop. "You can never have too many boats." There is nothing, absolutely nothing half so much worth doing as messing about in boats, as Ratty soliloquized to Mole.
The motto of Tippecanoe Small Boats ltd. is:
Respect the Earth
Embrace Creativity
Do Good Work
Play
A final note about our small boat kits. We are pioneers in the format of complete and detailed video instructions for building kits. The kayak video shows you every step in the building process in virtually real time from beginning to end. You see it, you hear it being carefully explained, you do it. We have had so much experience with different levels of building skill that we know exactly how to make the building project go successfully and easily. We know exactly what to remind you of and how many times to remind you and where to caution you. All of our methods and techniques have been developed and refined to produce superlative and quite amazing performance boats that can be built with no previous experience working with wood or epoxy. We tell you everything you need to know in clear English. If something is especially important we may explain the same thing in three different ways to make sure it will be clear for every builder. You can see a sample of the building video greatly compressed by clicking here: Kayak Building Instructions compressed  Or watch the full length videos starting with Part 1 by clicking here: Kayak Building Instructions
Yes! You can build your own beautiful ultralight kayak. What a great experience to build something so beautiful and then to paddle the very boat that you built! Prepare yourself for all the wonderful comments you will get from strangers admiring your boat! Embrace your own creativity! Play.
Click here for K14.5 Kayak details
Click here for K15.5 Kayak details