admin Jul/ 1/ 2014 | 0
The T37 Class is thriving and growing! With over 2,300 boats sailing, new fleets and regattas are being established across the United States and internationally. We are excited to announce that the first
Canadian T37 National Championships
will be held
October 11th, 2014
at Trout Lake on the outskirts of downtown Vancouver, British Columbia. Sailors from the United States are encouraged to come up north and join in a day of competitive, exciting, and fun racing! The first annual
San Juan Island Spring Regatta
was held on May 17
th
at Sundstom Pond on San Juan Island, near Friday Harbor, Washington. Organized and hosted by Larry Shorett, Allan VanNess, and the
Pacific Northwest Model Yacht Club
, the event featured 14 T37 boats in 16 exciting races.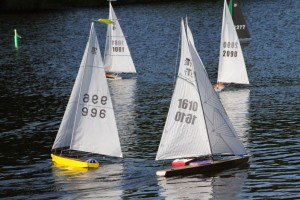 Olympic Gold Medalist Carl Buchan won the first place trophy, with Ron Knight and Peter Shorett finishing second and third, respectively.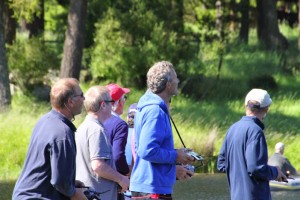 After the racing, the group gathered for a delicious salmon dinner hosted by Peter Shorett. The San Juan Island Spring Regatta was a wonderful day of racing and sailing camaraderie, and I look forward to attending again next year!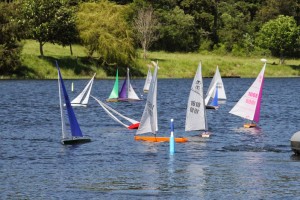 More great pictures can be seen at the pnmyc.org website under 'Photo Links—San Juan Island Spring Regatta'. As T37 racing becomes increasingly popular, clubs are expanding rapidly. A particular T37 club of note is the Port Townsend Yacht Club in Washington state. Through the work of its organizer, Michael Machette, and many other sailors, the fleet has grown from zero boats two years ago to 42 (and growing!) boats today. Once people see how much fun it is to sail a T37, they want to build one for themselves and start racing! If you are interested in starting a T37 fleet in your area, we are always happy to provide support and to help publicize your club. T37 racing is inexpensive and accessible to everyone, from experienced racers to people who have never sailed before! If you have more questions, feel free to call—1-800-206-0006—or email (fun@modelsailboat.com)! Running races is actually quite easy! Clubs in the Pacific Northwest are using racing marks with colored flags for easy visibility; these are now available from Tippecanoe Boats. The marks can be tossed up to 30 yards into the water from shore, or can be deployed from a canoe or dinghy. John Ive, who has built six T37s, built a
T24 Tug
for the Pacific Northwest Model Yacht Club (PNMYC) to set marks further out in larger lakes. The remote-controlled T24 Tug is designed to pull a barge that carries the racing mark. The retrieval line stays on shore; when the tug reaches the correct location, a quick tug on the retrieval line launches the mark. When the racing is done, the retrieval line is used to retrieve the mark from shore. This system can be used to set marks out so far you would not be able to see the mark clearly enough to be able to round it! (The tug and marks are available from Tippecanoe Boats
here
.) After building a tug for the PNMYC, John built a second tug for himself and did an amazing job with beautiful veneer decking and other custom details. You can see pictures in the 'Owners Pictures' pages at www.modelsailboat.com In other news, Gary Bart, who is building his first T37, has started an excellent build log, with many pictures as well as helpful commentary. His blog can be viewed at
http://t37buildlog.blogspot.com/p/introduction.html
. Your boat is looking great, Gary, and thank you for sharing your T37 building experiences with other builders! It is always wonderful to hear from T37 sailors about their sailing and racing experiences, and to learn about new clubs and groups! Keep in touch! Happy Sailing, Will Lesh T37 Class Secretary