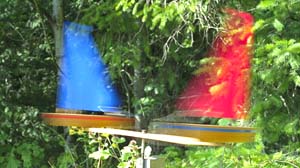 You can't beat the WindRacer for a colorful and nautical piece of garden art! A gentle breeze brushes the sails and they spin a few turns lazily in a relaxed dance of colorful motion. The wind picks up and they begin to spin swiftly around on their steel point pivot atop the stainless steel mounting rod. And then a squall blows through and they are really racing, spinning so fast they become a blur capturing all the thrill of the racing wind. Fun, colorful and unique garden art for the sailor in all of us! Solid brass fittings topside, durable western red cedar hulls, stainless steel mounting rod, mounting hardware. The sails are real sail fabric, 1-1/2 ounce nylon spinnaker cloth - the same material a big 50 foot boat would use for the heavy air spinnaker - tough and colorfast. Each WindRacer comes complete with two full sets of sails (4 sails total) for years of use. An excellent gift idea and a wonderful addition to your garden, deck, pool or dock.
WindRacer Kit
(unvarnished). $94.00
Finished WindRacer
 Varnished with a high-quality marine varnish for years of fun! $156.00
Replacement WindRacer Sail Pac.
Includes 4 sails, 2 masts, 4 pieces of line, and 4 stripes to refit used WindRacers. $24.00